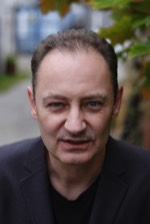 Carsten René Nielsen is a Danish poet. His selected prose poems, 'The World Cut Out with Crooked Scissors', was published in English by New Issues in the United States in 2007, and in 2011 'House Inspections'—the English translation of his prose poems 'Husundersøgelser' (2008)—was published by BOA Editions, both books translated by the American poet David Keplinger. In the United States his poems have been featured in several magazines, among them 'The Paris Review', 'Circumference', 'Agni', 'Two Lines' and 'Copper Nickel'.
»Nielsen employs many of the same surreal techniques as Russell Edson, but maintains a more objective tone, and typically leaves the reader with a sense of awe […]
House Inspections
offers tantalizing mysteries for a world all too often gnawing on its own cynicism.«

—Rain Taxi
»These poems do much more than blur the line between illusion and reality: they evoke that vibrant contradiction of dreaming in which the real and unreal exist in perfect simultaneity …«

—The Georgia Review
THE WORLD CUT OUT WITH CROOKED SCISSORS
'The World Cut Out with Crooked Scissors – Selected Prose Poems' by Carsten René Nielsen was published October 2007 by New Issues Poetry and Prose in the United States.

'The World Cut Out with Crooked Scissors' consists of translations of prose poems from Carsten René Nielsen's books of poetry published 1998-2005: 'Circles' (1998), 'Clairobscur' (2001) and 'Forty-One Animals' (2005) translated by American poet David Keplinger.

Nicky Beer reviews 'The World Cut Out with Crooked Scissors' in 'The Georgia Review':

»... scenes and tableaus that are by turns absurd, witty, disturbing, and delightful [...] the unconscious and self-consious merge into one marvelous hybrid.«

Read an excerpt from the review here: